Tuesday, March 24th, 2009
Time to keep the ball rolling in blogs worth a look before everyone forgets about the entire thing.This time around I will cover; Automotive, Friends, and Design.
Automotive

Jalopnik
The folks at the gawker media network really know how to wet my reading appetite.  I originally found this blog via a digg post linking to the "Down Alameda Street" category. Down the street alone could keep me amused for hours but this blog also has a lot of other interesting automotive related posts, news, reviews, concept cars, galleries, it's got everything needed to speed through what could be an otherwise productive day. Good stuff.
Cardomain Blog
Cardomain got lucky, they sent a newsletter to my nearly 70% spam filled email account and I actually read it, not only did I read it I clicked through to their blog and kept reading. This is huge because I normally delete emails like that before I even read open them.
The cool thing about this blog is they often link to cardomain member pages so you can follow builds and learn how badass cars got to be so bad ass which is a great way to build inspiration for your own project car, whatever it may be.
Autoblog
This blog is simple straight forward industry news, it's actually not the type of blog I check everyday, but if you are looking at buying a vehicle do a quick search and see what pops up.
Friends (part 1)
Idiot Banter
I met Matt while working at officialCommunity, he was my senior and helped me advance my xhtml/css skills enough to advance into the position I am at today at torstardigital. He is also an awesome drummer, a snowboarder, and has come watch me ride at the bike show a few times. His blog, like mine, is based around his interests and since Matt is a perfectionist he really takes the time to write great posts.
Aside from the post shouting me out, I also really like his post on Why Vinyl?, An Event Apart and why Gene Simmons doesn't know what he is talking about. Oh Matt also writes for the Much Music Blog as well big time!
ThirstyMates
I met Grant a bit after meeting Matt, same employer, except Grant was a junior, Matt was still a senior, and I was a no title along with my friend Nairica.
Grant likes a lot of things video games one, beer the other. He likes beer so much that he is brewing his own. His blog, thirsymates, contains original musings about one mans (well one man and occasionaly some friends) love affair with beer.
Taradoesrap
Tara is easily my most famous female friend, she is currently denying it via msn, but that does not make it any less true.
She has done interviews with: Royce da 5′9, Joe Budden, Big Daddy Kane(!!), and The cool kids. She has also been on Tyra Banks. Yep sounds famous to me. Taradoesrap is her blog, and this girl works hard, she also writes for hiphopcanada.com
Inspired By Hand
Lyndsey is my creative girlfriend who is often the kick in the pants I need to get started on anything.
Her her craft/art inspirational blog also works as a show case for new things she makes (like yoga bags) for her etsyshop(s).
Design
Smashing Magazine
This is standard stock for a design  blog, its popular, has great content and everyone  goes there.  I couldn't call myself a web designer (actually I am a front end developer) without mentioning smashing. It's a great resource for free stuff.
Toxel
Toxel is another blog I found via digg and have been hooked on ever since. It's meant to inspire and help the overall design process but really I just go their to look at cool random things, like creative ice cube trays, creative paper cutting, and unusual ties. This blog is defiantly worth checking out if for nothing else other than toilets that make it look like you are ski jumping.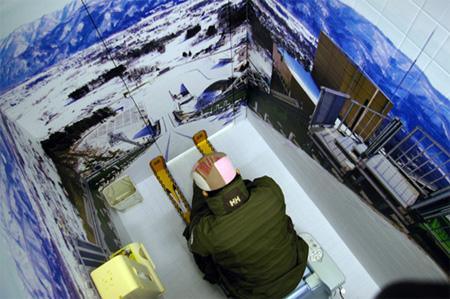 Inspiredology
Inspiredology is like a Canadian version of smashing. It's actually done by a guy named Chad Muller who is one of the few classmates of mine who decided to stick with this industry. Like smashing their are resources to download, and tutorials. To set it apart from the crowd though Chad also does a lot of interviews with local designers, photographers, and bloggers and also runs contests. It just got redesigned so take a look.
This post is part of a series, be sure to check out part 1